Home
»
Our Services
»
Telecoms Networks
»
Shelters
THE TOWERS AND SHELTERS WORLD
ALGA:
Technical Quality in Shelters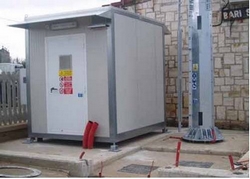 ALGA
directed several categories of technical shelters fitted to contain the dedicated equipment to ,
des telecommunications
and
broadcasting
different sectors.
These types of shelters following a adapted proceedings painting to various environments. Before the establishment of
shelters
and precast of telecommunications equipment (berries) we build their foundations, their slabs and cement screeds for the support.
Also
ALGA
proposes to meet the requirements of the fire by providing shelters thermally insulated and designed to meet the standards firebreak in buildings that have electricity.
In addition to standards of firebreak, for our partners, we isolate the shelters accordance with good air conditioning, along with a good electrification.
For you to benefit from a turnkey solution ,
ALGA
can arrange delivery on your site, assembly and disassembly of shelters and other infrastructure. We can ensure the administrative management some equipment requires suitable means in case of special convoys.
Shelters
| 
Mobile Shelters
|
Standard Shelters
Useful Space | Sitemap | Business Space | Topicality