Home
»
Our Services
»
Telecoms Networks
»
Site Servicing
A TECHNICAL STAFF FOR
REHABILITATION AND MAINTENANCE PROGRAM SITES
Reset to level of Installed Systems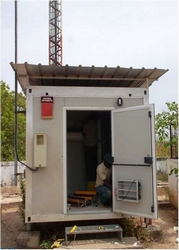 ALGA
extends its
expertise activities
and
engineering
as well as turnkey providing to its partners with a service maintenance management, both in the aspect of sustainability towers and shelters for the management of technical equipment.
Also we carry out monitoring missions and ensures the enhancement, enhancement, upgrading and maintenance of installed systems namely microwave, antennas and electrical systems, etc. .. for the reception of new equipment, site development.
ALGA
is positioning itself as a true partner to its customers, supporting them in achieving their projects; new constructions or rehabilitation programs, while optimizing the costs of construction and operation.
In
the extension of its skills
on
expertise
and
engineering
, and to assist the project owners in their applications for global missions,
ALGA
created the maintenance team and with its experience and expertise.
Bringing together the technical expertise,
ALGA
is working in projects where it assists its customers in their strategic decision making process and takes responsibility for the design and implementation of such projects on the basis of objectives, cost and time.
As a company specializing in telecommunications is able to handle projects of any complexity using an integrated approach combining technical skills, and aims optimization projects.
Towers
|
Shelters
|
Microwave Radio
|
Antennas Relay
|
Site Servicing
Useful Space | Sitemap | Business Space | Topicality