Home
»
Our Services
»
Telecoms Networks
»
Towers
THE TOWERS AND SHELTERS WORLD
ALGA:
The provider of high size towers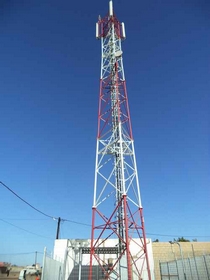 ALGA
maintains partnerships with customers in the telecommunications and broadcasting sector while studying and supporting them in the achievement of their specific towers projects.
We are assembling and installing towers of all types and all sizes according to the needs of our partners namely greenfield towers, guyed towers, masts with various heights
( 6m ,12m , 24m , 48m , 60m , 90m , 100m etc... )
.
These towers are very useful support for connecting multiple communication equipment such as microwave, antennas etc ... obeying predefined standards.
Also
ALGA
ensures the building the foundation slabs of your towers and BTS equipments
( Foundation + Towers Supports )
before installation and after following a proceeding painting for every environment concerned.
To this end we carry out all the work of our partners and customers with a adapted methodology to the expected projects from survey to the reception. Our Towers concrete withstand extreme weather conditions, fire, sandstorms and high temperatures.
Greenfields Towers
 |
Guyed Towers
|
Palms Towers
|
Masts
Useful Space | Sitemap | Business Space | Topicality